Safe Trailer Towing Capacity (a GMC Guide)

Pulling a trailer is not as simple as hooking the trailer up to the towing vehicle. Not only must you keep towing capacity in mind, but you must pay careful attention to every other detail as well, or the results could be harmful to your vehicle and your safety. When pulling trailers with your truck or SUV, there are several things that you need to take into consideration. These things include the following:

Make sure the trailer is mechanically sound with proper lighting and good tires       

Make sure that you do not exceed trailer tongue or towing weight       

Make sure you do not exceed the vehicle's rated capacity for towing

The towing capacity for a truck or SUV is the maximum weight that you can pull with that vehicle. The capacity takes into consideration several factors, including the gross vehicle weight and the design of the vehicle in question. If you try to exceed recommended capacities, you put yourself in danger because the load you are towing affects braking and handling. You can also cause serious damage to the vehicle's drive train if you exceed the limits that the vehicle is capable of towing.

When you hear the term gross vehicle weight, this is the weight of a truck or SUV when it is fully loaded. "Fully loaded" means with all fluids topped off, any optional equipment installed on the vehicle and the combined weight of passengers and cargo in the vehicle at the limit as found on the vehicle's tire and loading information label. It is important that customers should never exceed the tire load limits by having a combined weight of passengers and cargo that exceeds the limit found on their vehicle's tire and loading information label.

With trailer towing capacity, you must consider the gross combination weight rating. This figure includes the gross vehicle weight plus the gross vehicle weight of the trailer. When added together, you should never exceed this figure for any reason.

The tongue weight of the trailer is the force applied to the trailer hitch when you are pulling a trailer. To determine the tongue weight of a trailer, you must first determine the gross trailer weight. This is usually visible on an information plate on the trailer, or you will have to figure it out by weighing your vehicle on a truck scale. Review GMC's Towing Capacity Guide (below) to understand how much weight you can confidently and safely trailer with different GMC model lines.

Pulling a trailer that is too light or not loaded properly can be as dangerous as pulling one that is too heavy but for different reasons. For instance, the tongue weight ensures that the trailer has enough weight to help it stay secure on the hitch, along with the ball-locking device. On the other hand, pulling a trailer that is too heavy for the tow rating on a vehicle can make it more difficult to steer and brake.

The tongue weight should be between 10% -15% of the gross trailer weight. The actual figure will depend on the trailer classification (Light Duty (I), Medium Duty (II), Heavy Duty (III), Extra Heavy Duty (IV) or Maximum Heavy Duty (V)), weight range of the trailer and hitch type.

Read more about towing and trailering:   

To see the charts below in larger font sizes, and for additional information, click here.
Every GMC truck, crossover, SUV and van is designed specifically for trailering, with power, handling and convenience features you can rely on for long hauls and heavy loads.  This guide will help you select the GMC model that's right for your trailering needs and also contains helpful tips for loading, driving and parking with your trailer.

MAXIMUM TRAILER WEIGHT RATING (LBS)

This chart gives you an idea of the maximum amount of weight you can confidently and safely trailer with different GMC model lines when your vehicle is properly equipped. When determining the total weight of trailer and cargo, include the weight of any additional passengers and optional equipment (driver weight and base equipment are already included).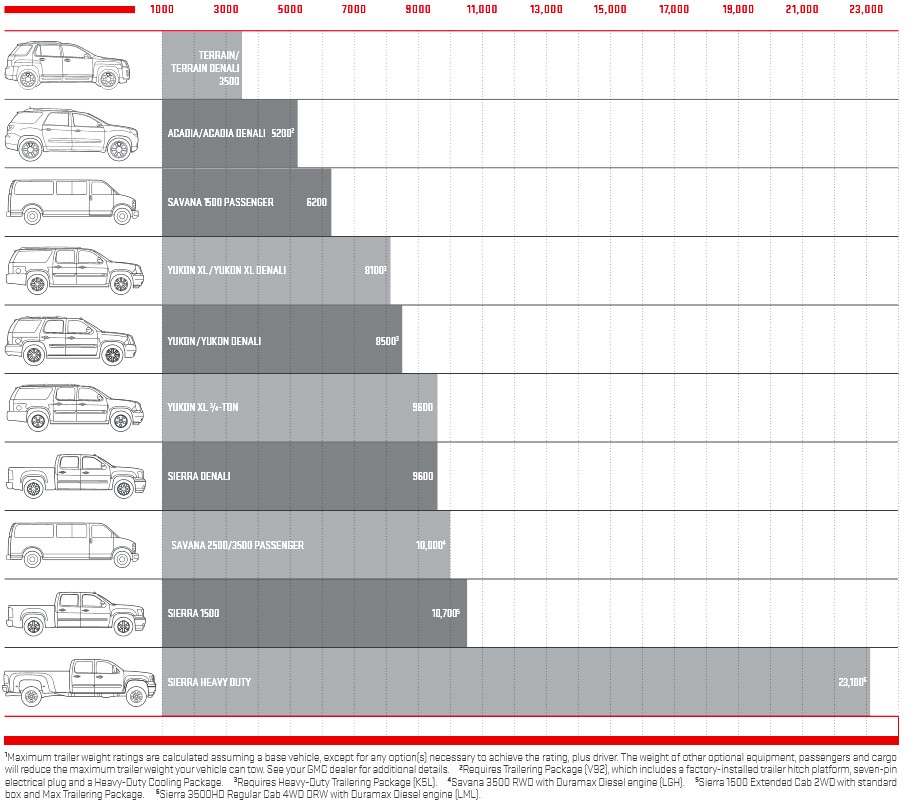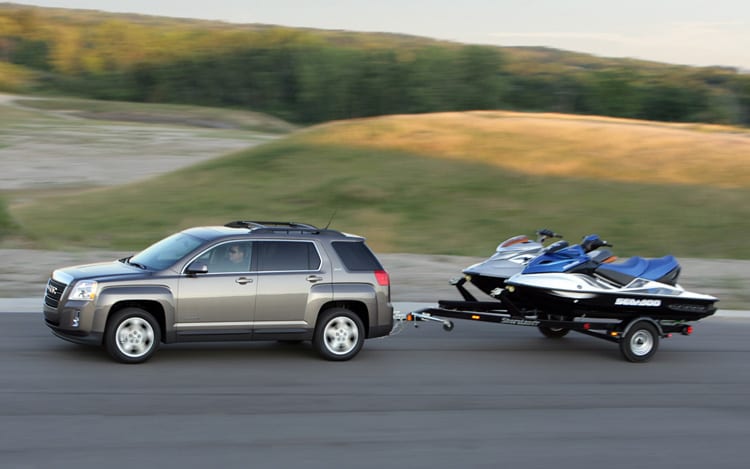 SELECTED HORSEPOWER AND TORQUE RATINGS

GMC vehicles offer a wide variety of engines to suit your trailering and towing needs. Check out the chart below (organized by vehicle and engine option) for horsepower and torque specs.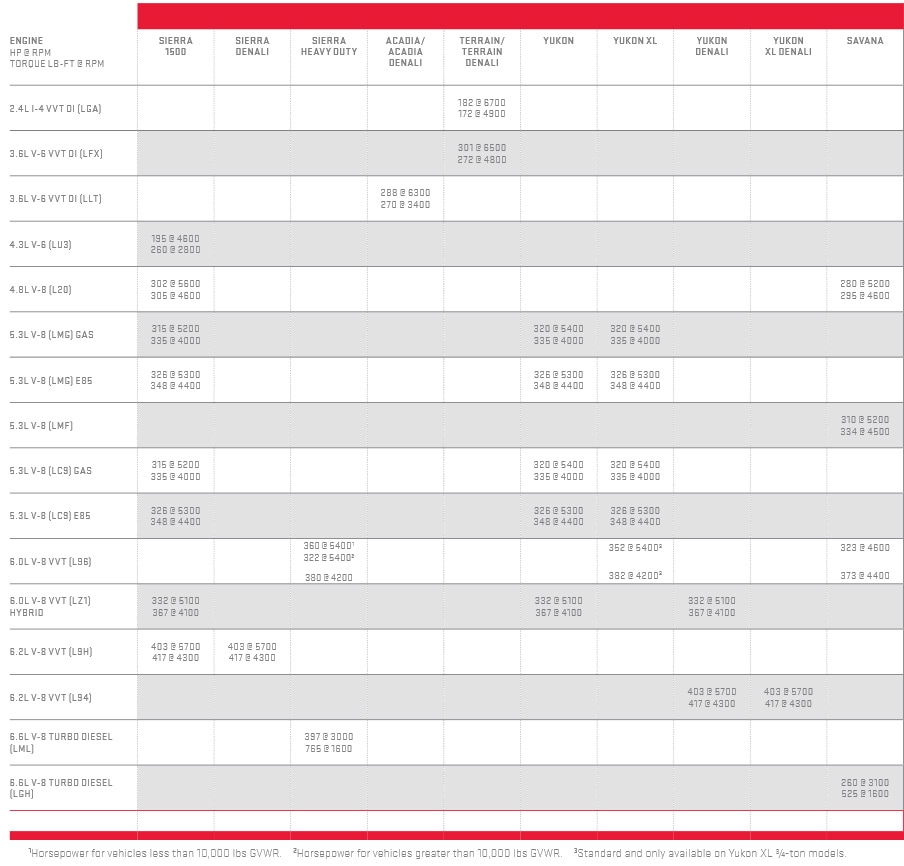 FLAT (DINGHY) TOWING CAPABILITY

This chart indicates which GMC vehicles are engineered for dinghy towing.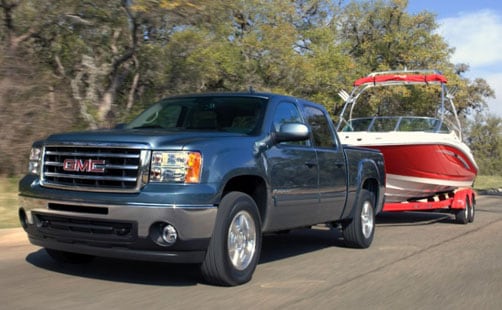 TRAILER WEIGHT RATINGS

Maximum trailer weight is outlined by vehicle and hitch type in the charts below. Keep in mind that the additional weight of optional equipment, passengers, and cargo will reduce the maximum trailer weight your vehicle can tow.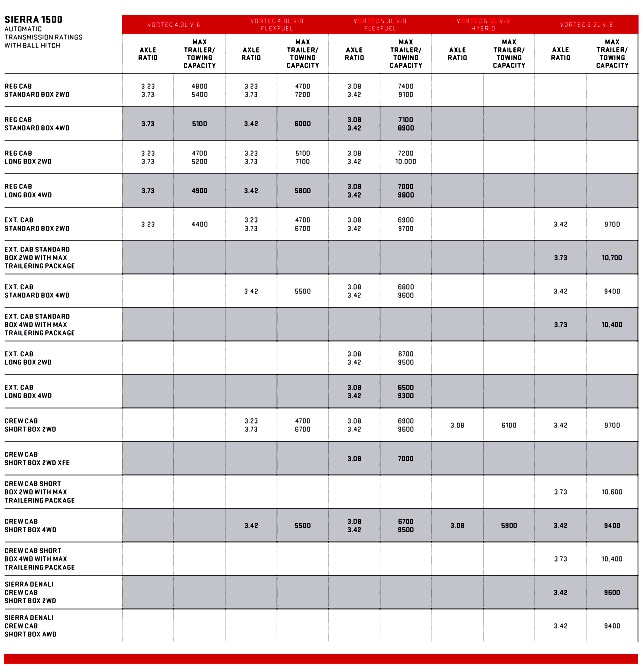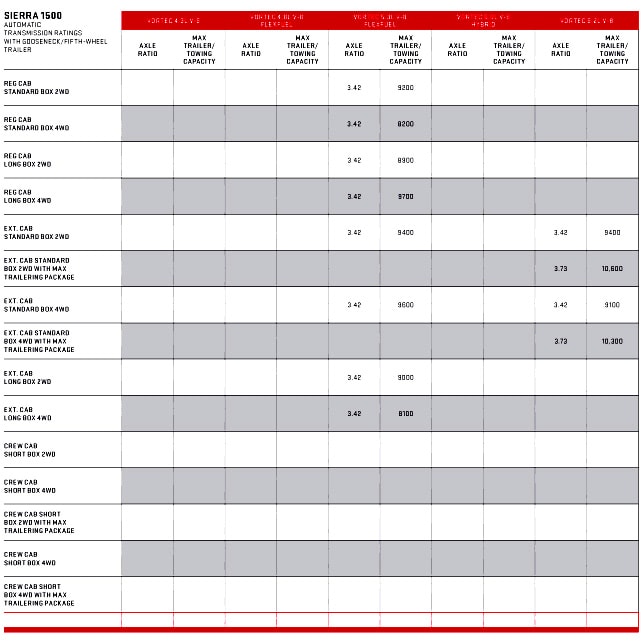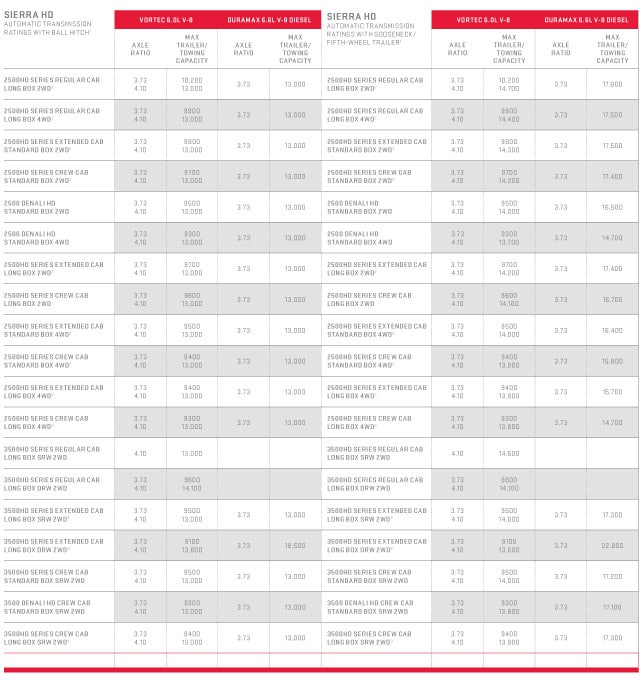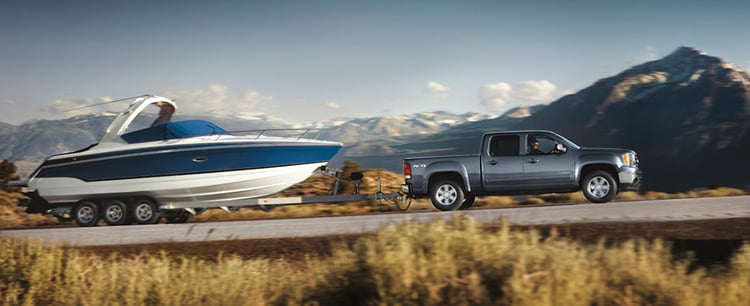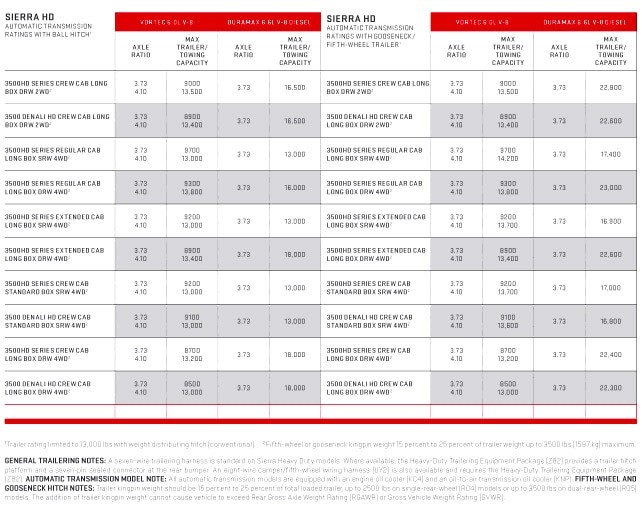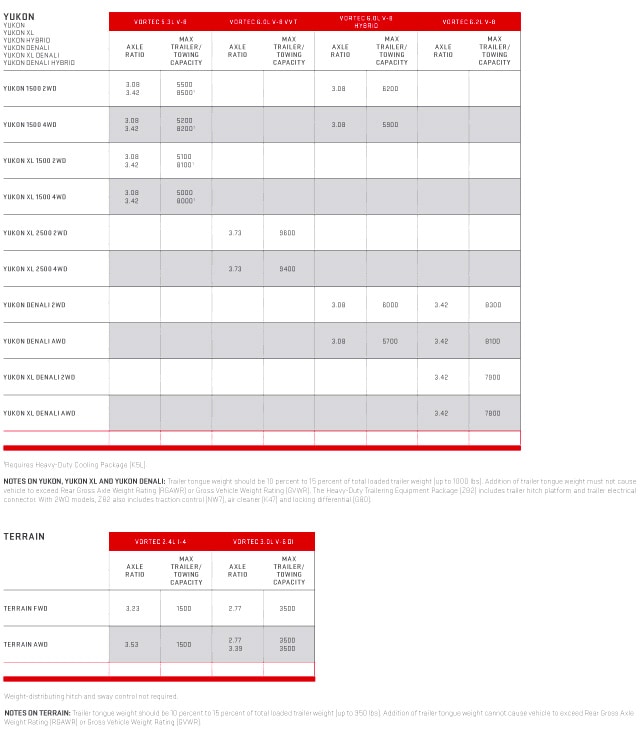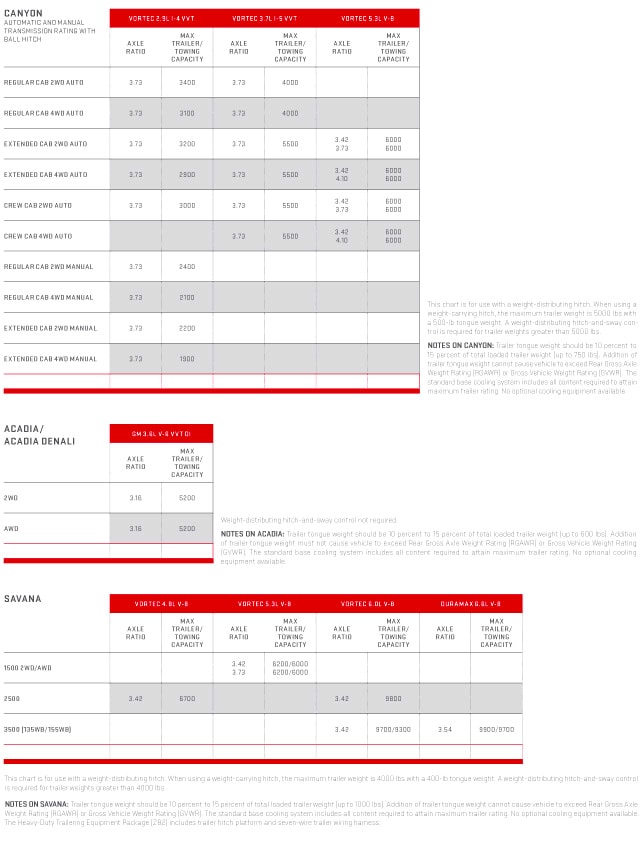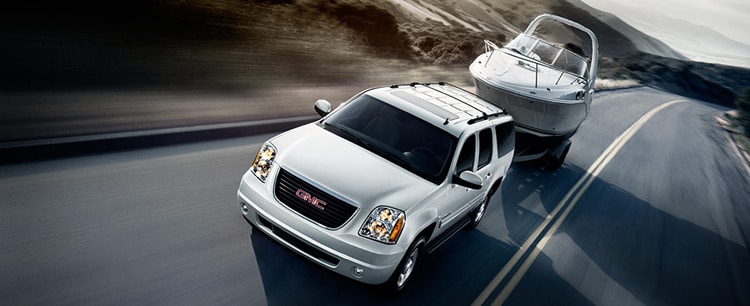 1. When properly equipped. Maximum trailer weight ratings are calculated assuming a base vehicle, except for any options necessary to achieve the rating, plus driver.
2. Trailering weights are calculated assuming properly equipped vehicle, plus driver and one passenger. The weight of other optional equipment, passengers and cargo will reduce the trailer weight your vehicle can tow. See dealer for details.
3. EPA-estimated 15 city/21 hwy MPG with the 5.3L V8 engine. Based on 2012 GM Large Pickup segment.
4. EPA-estimated city/hwy MPG: Sierra 1500 with Vortec 4.3L V6, 15/20; Sierra XFE with Vortec 5.3L V8, 15/22; Yukon with Vortec 5.3L V8, 15/21; Yukon Hybrid with Vortec 6.0L V8, 20/23; Yukon XL with Vortec 5.3L V8, 15/21.
5. V6 equipped models only.
6. EPA-estimated 15 city/21 hwy MPG. Based on 2011 GM Large SUV segment.
7. EPA-estimated mpg: Canyon Crew Cab 2WD with 2.9L I-4 engine, 18 city/25 hwy.; Savana 1500 2WD with 5.3L V-8 engine, 13 city/17 hwy.; Sierra 1500 XFE with 5.3L V-8 engine, 15 city/22 hwy.; Yukon with 5.3L V-8 engine, 15 city/21 hwy.
8. Cargo and load capacity limited by weight and distribution.