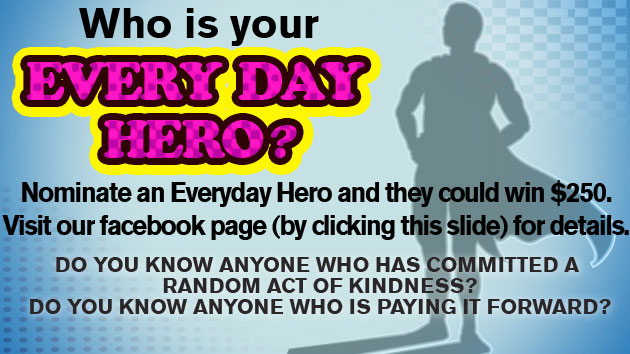 Who is your Everyday Hero?
Our four weeks of Everyday Hero nominations and awards are over, and we learned about some remarkable people.  You can read about them, below. 

Special thanks to everyone who was nominated - each of you are an Everyday Hero!  And thanks to all those who took the time to nominate; it is great that these folks are getting recognition for their efforts. 

We will keep the information about the nominations here on this page so that anyone who visits gets a better idea about what we were trying to do.

---
Nominate an Everyday Hero and they could win $250
Do you know anyone who has committed a random act of kindness?
Do you know anyone who is paying it forward?
"Everyday Heroes" are all around us. They are individuals and organizations who freely donate their experience, talent, time and hard work in an effort to benefit folks who aren't as fortunate. What do they have in common? They all have the ability to make a personal connection that frequently turns into a pay-it-forward wave that spreads around their local community and our world.
Each week, nominate a person or an organization that has inspired you with their acts of selflessness in our community.
Submit the name of your Everyday Hero here on our Facebook page, along with your reasons for nominating them.
Drawings will be held every Friday and you will be notified via Facebook if your nominee was chosen to win $250.
We will pick one winner every week for four consecutive weeks.
Employees and families of affiliated companies are not eligible to win. No purchase necessary. If a winner is unreachable after seven (7) days, or if that winner is unavailable for prize fulfillment, an alternate winner will be selected. Winner will assume any federal or state tax liability that may be incurred. Winners will be randomly selected. Promotion dates: 2-11, 2-18, 2-25, 3-3
By entering this contest you are adding your address to Airport's database.
---
Our Week 1 Wi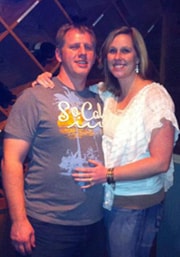 nner was

Jennifer Hedgepeth

. Her friend  Suzi Mcclendon gave us this nominati
on:
"I think that J
ennifer Hedgepeth is a hero. This lady wears many hats. She helps anyone in need. She is always volunteering her time, helping with many different organizations. S
he is wonderful!!!"
Thank you for all you do, Jennifer!
---
Our Week Two Everyday Hero is
JoLayne Fulmer
.
Here is what her friends had to say:
Annie Laurie King: "My everyday Hero is JoLayne Fulmer. She lost her daughter, Faith, to cancer just 5 1/2 months ago. She has started Faith Fulmer Foundation and is helping Dr. Keller at OHSU find a cure for childhood cancer. 46 kids a day are diagnosed with cancer and 7 die a day. The money would help this research so other parents don't lose their child."
Heidi Hoggatt Loftus: "JoLayne Fulmer continues to collect, package up and send toys to other children and families faced with childhood cancer. She recently helped a local family who requested a bed to sleep next to their child who is dealing with cancer. JoLayne immediately put the request out to her network of friends and family who responded instantly and that evening the family had what they needed and more! She doesn't hesitate; she jumps at the chance to help and follows through.  She does this with love and compassion more often than we know."
Thank you JoLayne for everything that you do; you are an inspiration to us all! 
---

Our Week Three Everyday Hero is

Doctor RD Jones

, and here are two of his nominations:
Rach Rogers: "An everyday Hero? This man has distinguished ability to care for our children. He has the ability to put the needs of his patients far above his own. He is always just a phone call away. He takes the time to seek the answers to questions when everyone else tells us there is no hope. He is a man of integrity and shows this by his actions.
This man is Doctor RD Jones Of The Kids Clinic.
The level of commitment that the Kids Clinic staff has is immeasurable. The love and dedication that this office has is incredible. The Rouge Valley is blessed beyond measure by having this team."
Emilie Sampson: "I second (or 4th) the nomination of Dr. RD Jones. He has gone above and beyond in his care for my boys. He, along with all of the staff at the Kids Clinic have been a huge support for families who have children with disabilities. He has kept the clinic open after hours to ensure that we would not have to head to Urgent Care or the ER."
Thank you Doctor Jones and staff at the Kids Clinic for your efforts in our community.  You obviously have an inspired following!
---

Our Week Four Everyday Hero is
Chloe Christiansen
, and here is one of her nominations:
Heath Christiansen: "I nominate my teenage daughter Chloe Christiansen as an everyday hero! She goes to school and works and still volunteers her time whenever she can. She volunteers at the hospital, redcross, relay for life, at local events, and she raises money for individuals who need it most. She always will help anyone who needs it! She is a local hero to many including myself!"
Chloe, you are awesome!  Keep up the good work and keep setting a good example for all of us to follow.